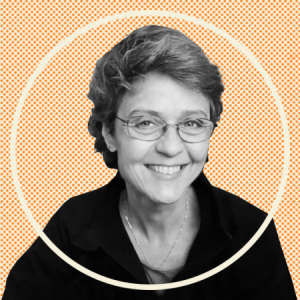 Alumnus
First Name

Claudia

Last Name

Seber

Username

claudiase

Bio

b., lives and works in São Paulo, Brazil


Claudia Seber is a Brazilian artist. She always had Art as a premise of her work. In the 90s, she started a jewelry course and then dedicated herself to this area by developing projects and teaching classes.

With 25 years of experience in jewelry making and with a major interest in the creation process, Claudia followed the Art path to amplify the scale of the jewelry and create sculptures initially with the scrap of this work. Post-graduated in Art Therapy in Analytical Psychology.

After participating in exhibitions and being a finalist in a national Art contest in 2017, she has acquired a taste for the study and research of new materials to be incorporated into her sculptures.

Currently, she works in her studio with creative workshops and the creation of sculptures.

 -=≡=-

Claudia Seber é uma artista brasileira, nascida em 1968. Terapeuta Ocupacional de formação sempre teve a Arte como premissa de suas atuações. Nos anos 90 iniciou um curso de joalheria e passou a dedicar-se a essa arte desenvolvendo projetos e ministrando aulas.

Dos 25 anos transcorridos na joalheria e com amplo interesse pelo processo de criação, Claudia seguiu pelo viés da Arte para ampliar a escala da joia e criar esculturas inicialmente com o refugo deste trabalho. Pós graduou-se em Arteterapia em Psicologia Analítica.

A presença em diversas exposições e finalista em seu primeiro concurso de Arte em 2017, alimentaram o gosto pelo estudo e pesquisa de novos materiais incorporados as suas esculturas.

Atualmente trabalha em seu ateliê com oficinas criativas e criação de suas esculturas.

Website
Statement

Inserted in my professional universe, always having art as a transforming agent of the human soul, the rescue of the surrounding materiality is the core of my work. Combining this material resignification with conceptual, collective, and self-expressive thinking makes up the uniqueness of the creations.

Combining my therapeutic practice with more than 25 years of creating and making authorial jewelry, rescuing individuality and human praxis concomitant with material retrieval is my starting point. Sharpening perceptions, emotions and expanding the imaginative space as a channel of consciousness is what the understanding and intention of my work is about.

 -=≡=-

Inserida em meu universo profissional tendo sempre a arte enquanto agente transformador da alma humana, o resgate da materialidade circundante é o cerne de meu trabalho. Aliar essa ressignificação material a um pensamento conceitual, coletivo e auto expressivo compõe a singularidade das criações.

Aliando minha prática terapêutica a mais de 25 anos de criação e confecção de joias autorais, resgatar a individualidade e a práxis humana concomitante ao resgate material, constitui meu ponto de partida. Aguçar percepções, emoções e ampliar o espaço imaginativo como canal de consciência é o que tange a compreensão e intenção de meu trabalho.
Exhibitions

Solo / Individuais
2021
. METANOIA – "A Hebraica" Gallery – SP/BRAZIL

Group / Coletivas
2022
. XXII INTERNATIONAL ART BIENNAL OF CERVEIRA – Fundação Bienal de Arte de Cerveira – Vila Nova Cerveira/PORTUGAL

2021
. 17th NATIONAL SALON OF CONTEMPORARY ART OF GUARULHOS – Adamastor Municipal Education Center – GUARULHOS / BRAZIL
. CURRENT LATIN AMERICAN VIEWPOINT – Ciaartecultura – São Paulo City Council / Socorro Municipal Museum – SP/BRAZIL
. THE ANTHROPOPHYS – Labyrintus Gallery – BH/BRAZIL
. 17th UBATUBA SALON OF VISUAL ARTS – Ubatuba/Fundart Art and Culture Foundation – UBATUBA/BRAZIL (online)
. URBAN POETICS – Contempoarte – SP/BRAZIL (online)

2020
. DIÁLOGOS DISTANTES – Galeria Tato – SP/BRAZIL (online and in person)

2019
. SÃO PAULO AND ITS MULTIDIVERCITY – Espacio Uruguay – SP/BRAZIL
. SALON INTERNATIONAL d'ART CONTEMPORAIN – Le Carrousel du Louvre/ We Live Art –
Paris
. APRILIS – Espacio Uruguay – SP/BRAZIL
. ELEMENTS – Apfel – SP/BRAZIL
. ART AND WOMAN – Art Lab Gallery – SP/BRAZIL

2018
. SP INSPIRA ARTE – Art Lab Gallery – SP/BRAZIL

2017
. PORTFOLIO – Art Lab Gallery – SP/BRAZIL
. Exhibition of Finalists of the REFLECTION ART TODAY Contest – Shopping D&D SP/BRASIL