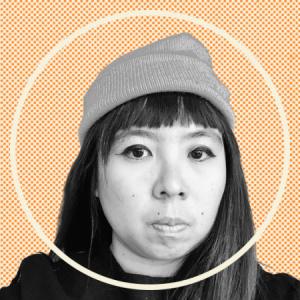 Alumnus
First Name

Amy

Last Name

Yoshitsu

Username

amyy

Bio

Lives and works in her hometown, Berkley, CA, U.S.


Amy Yoshitsu is a sculptor, designer, and socially engaged artist deconstructing the interconnections between power, economics, labor, and race to illuminate their foundational impact on individual schemas and interpersonal relationships. In 2010, Amy received an A.B. in Visual and Environmental Studies from Harvard University and attended the MFA Art program at California Institute of the Arts. In 2021, Amy was honored to be an Artist in Residence at Esalen Institute and participated in the virtual Artist Residency Project at the School of Visual Arts. Amy's work has been featured in the US and internationally.

In 2020, Amy co-founded Converge Collaborative, a BIPOC workers coop that functions as a digital agency and arts collective. Converge strives to empower creatives of color while centering emotions in the labor context.

-=-

Amy mora em sua cidade natal, Berkeley, California, E.U.A.

Amy Yoshitsu é escultora, designer e artista socialmente engajada que desconstrui as interconexões entre poder, economia, trabalho e raça para iluminar seu impacto fundamental nos esquemas individuais e nas relações interpessoais. Em 2010, Amy recebeu um A.B. em Estudos Visuais e Ambientais pela Universidade de Harvard e participou do programa MFA Art no California Institute of the Arts. Em 2021, Amy teve a honra de ser Artista Residente no Esalen Institute e participou do Projeto Virtual Artist Residency na School of Visual Arts. O trabalho de Amy foi apresentado nos EUA e internacionalmente.

Em 2020, Amy cofundou a Converge Collaborative, uma cooperativa de trabalhadores do BIPOC que funciona como uma agência digital e coletivo de artes. A Converge se esforça para capacitar os criativos de cor enquanto centraliza as emoções no contexto do trabalho.

Website
Statement

I seek to build a culture of self-compassion and awareness by reframing experiences and conditions within historical, political, financial, and colonial contexts. I interrogate my perspective, circumstances and heritage—defined by multi-generational struggle and isolation incurred from ambitious striving within gas-lighting white supremacist patriarchal capitalism—in relationship to systemic patterns, myths and power. As an Asian-American contending with inherited, conflicting duties and narratives of care-giving and achievement, I am especially interested in the conscious and unconscious positions and conditions of those whose lineages are entangled with diaspora, assimilation and imperialism.

Infrastructure—encompassing the act of supporting, the undergirding for creation, and the workforce maintaining our unsustainable global practices—informs the concepts, imagery and materials of my work. The objects I make embody that systemic forces, driven by the constellation of economic and emotional incentives in power structures, play greater than acknowledged roles in our individual material, cognitive and emotional conditions. The intersecting histories and consequences of omnipresent apparatuses—from taxation to electrical grids to the maintenance of racecraft (Fields and Fields)—are foundational to the tapestry of human existence. I employ sewing and textiles as methods and materials to interweave the effects that our entrenched systems have on the body, the delicate, the intimate. In the US especially, government, corporate and social norms are deeply influenced by technocracy, the interplay between private and public power and the cycles of consumption. To surface and visualize these complex layers, my creations amalgamate industrial and refuse materials and are built from layers of manual and digital approaches.

-=-

Procuro construir uma cultura de autocompaixão e consciência ressignificando experiências e condições dentro de contextos históricos, políticos, financeiros e coloniais. Interrogo minha perspectiva, circunstâncias e herança – definidas pela luta multigeracional e pelo isolamento decorrentes de esforços ambiciosos dentro do capitalismo patriarcal supremacista branco de gas-lighting – em relação a padrões sistêmicos, mitos e poder. Como uma asiática-americano lutando com deveres herdados e conflitantes e narrativas de cuidado e realização, estou especialmente interessada nas posições e condições conscientes e inconscientes daqueles cujas linhagens estão emaranhadas com diáspora, assimilação e imperialismo.

Infraestrutura – abrangendo o ato de apoiar, a base para a criação e a força de trabalho que mantém nossas práticas globais insustentáveis ​​– informa os conceitos, imagens e materiais do meu trabalho. Os objetos que faço incorporam que forças sistêmicas, impulsionadas pela constelação de incentivos econômicos e emocionais em estruturas de poder, desempenham papéis maiores do que reconhecidos em nossas condições materiais, cognitivas e emocionais individuais. As histórias que se cruzam e as consequências dos aparatos onipresentes – da tributação às redes elétricas e à manutenção da racecraft (Campos e Campos) – são fundamentais para a tapeçaria da existência humana. Emprego costura e têxteis como métodos e materiais para entrelaçar os efeitos que nossos sistemas arraigados têm no corpo, no delicado, no íntimo. Nos Estados Unidos, especialmente, as normas governamentais, corporativas e sociais são profundamente influenciadas pela tecnocracia, a interação entre o poder público e privado e os ciclos de consumo. Para trazer à tona e visualizar essas camadas complexas, minhas criações amalgamam materiais industriais e de refugo e são construídas a partir de camadas de abordagens manuais e digitais.
Exhibitions

OBJECTS 2022
May–June 2022 | Group Exhibition | Czong Institute for Contemporary Art Museum | Gimpo, South Korea

STILL II: AN ELABORATION ON THE INANIMATE
May–June 2022 | Chateau Gallery | Online Group Exhibition

STRUCTURED SPACES
Apr–May 2022 | Group Exhibition | dodomu gallery | Virtual

SEASON FIRST FINALE/EPISODE ATTUNED
Mar–Apr 2022 | Solo Exhibition | Likkle Gallery | New York

ENVISIONING ARTISTIC INQUIRIES: THE MAPPING OF ARTS-BASED RESEARCH
Feb–Mar 2022 | Group Exhibition | Herter Gallery at UMass Amherst | Amherst, MA

EPHEMERAL EXISTENCE
Jan–Feb 2022 | Group Exhibition | Teleportal Gallery | New York, NY

ART/CRAFT FAIR
Dec 2021–Jan 2022 | Oakland Arts & Healing | Oakland, CA

7TH ANNUAL NATIONAL JURIED EXHIBITION
Oct–Nov 2021 | Group Exhibition | Oxford Arts Alliance | Oxford, PA

ECO ECHO
Oct–Nov 2021 | Art Gallery 118 | Online Group Exhibition

THREADS THAT BIND
Sept–Oct 2021 | Group Exhibition | Brooklyn Waterfront Artists Coalition | Brooklyn, NY

ARTIST RESIDENCY PROJECT: GROUP EXHIBITION
Sept–Oct 2021 | The Aerogramme Center for Arts and Culture | Online

TSA_PDF X SVA: THE ARTIST RESIDENCY PROJECT (FALL 2021)
Aug–Sept 2021 | TSA_PDF By Tiger Strikes Asteroid | Group PDF Exhibition

PAST, PRESENT, FUTURE
July–Aug 2021 | Group Exhibition | IncuArts Gallery | Online Exhibition

INTERSTICES WITHIN INDEX: VES THESIS SHOW
May 2010 | Group Exhibition | Carpenter Center for the Visual Arts | Cambridge, MA

BEG BORROW STEAL
Aug 2009 | Group Exhibition | La Montagne Gallery | South Boston, MA

LAB OR
July 2008 | Site-specific ensemble performance & installation | The Lab | San Francisco, CA

RESIDENCIES, PUBLICATIONS & MORE:

FEATURED IN 'RABBLE REVIEW'
No. 3
May 2022

PRESENTED WORKSHOP & ARTIST TALK
Art-Based Research Seminar
University of Massachusetts at Amherst
April 2022

FEATURED IN 'AL-TIBA CONTEMPORARY ART'
Original 10
April 2022

PRESENTED WORKSHOPS & ARTIST TALKS
Center for Visual Anthropology
University of Southern California
March 2022

FEATURED IN 'PATCHWORK LIT MAGAZINE'
Issue #3
January 2022

FEATURED IN 'SILK CLUB ZINE'
Quite! 07
December 2021

FEATURED IN 'CREATE! MAGAZINE'
Issue #27
November 2021

"BREATHING IS BECOMING IMPOSSIBLE"
Interview published by 'Luxury Splash of Art' luxurysplashofart.com
September 2021

ARTIST RESIDENCY PROJECT
Online Residency
School of Visual Art (NYC)
July–August 2021

ESALEN ARTIST IN RESIDENCE
Big Sur, CA
May–June 2021

"AI DESIGN FOR THE ENTERPRISE"
Interview published by 'Creative Next Podcast'
December 2019